Affordable, Dependable, All-In-One Solution for Your Production
Give us a try. You will save money, time, and the hassle of chasing down equipment and crew.
We are a resource for all the gear and crew needed to get your production done efficiently and at reasonable rates.
We have been helping producers with gear and crew for 12 years. We are based in Northern California and serve the entire region. We also work worldwide and have compact lightweight camera, sound, & lighting kits designed to travel.
Cameras – Monitors – Location Sound – Lighting – Grip – Dollies – Jibs – Stabilizers – Sliders – Motion Control – Wireless Follow Focus – Wireless Video – Car Mounts – Drone
See our extensive equipment list below.
We have adding many LED lights to our inventory. LED lighting technology has matured and is now equal to, or better in quality than Kino lights. In many instances LED's are close or equal to HMI's in quality.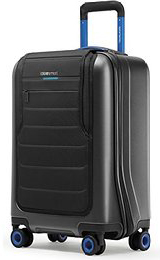 Traveling Light?
A complete interview or product lighting kit in a carry on luggage.
Contains 5 light stands, 6 LED lights Including 18″x18″ soft box, fresnel light, flags, nets, duvetyne, gels, clamps, reflectors, black wrap, gaffer tape, & stingers.

All lighting equipment below is in this kit.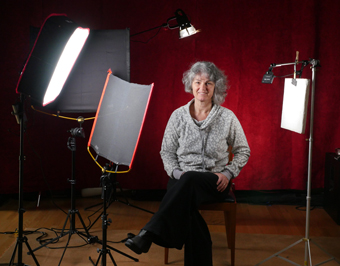 We have lots of new gear in all departments
Red Epic Dragon w/ Cabrio 19-90 t2.9 / Wireless FF & Monitor

2 Sony FS7's (2 new 18-110 f4 lenses coming soon)

2 Sony A7Sll's with 2 Sony 28-135 f4 lenses &16-35 f4 lens

Cinevate Duzi-4 32″ Slider with Flywheel (buttery smooth)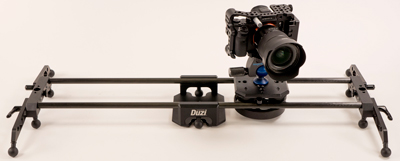 Sound Devices 664, Lectrosonic wireless, Schoeps mics

7″ & 5″ Video Devices monitor/recorders, Zoom 8 ch. recorder

1.5 Ton Grip/Electric Sprinter Van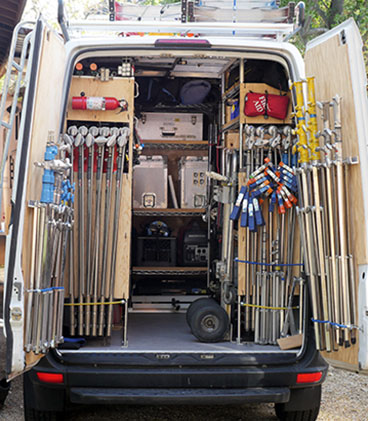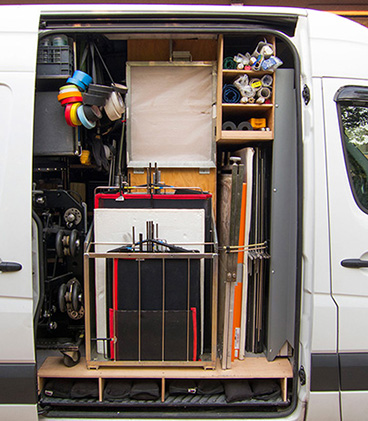 Camera & Lenses:
1 Red Epic Dragon Camera system (5″ Monitor, EVF)
PL Mount Lenses: Fujinon 19-90 f2.9, Canon 300mm F2.8
2 Sony PXW-FS7 4K camera w/ 4 64GB & 4 128GB cards
2 Sony A7Sii 4K camera
Sony Lenses: 1- 16-35mm f4, 2- 28-135 f4, power zoom, 1- 18-105mm f4 power zoom, 2- 18-110 f4 power zoom (coming)
Zeiss Loxia 50mm f2, Contax 85mm f1.4
2 Panasonic Lumix GH-4 4K bodies
Lenses for GH4: Lumix 7-14mm f4, 12-35mm f2.8, 35-100mm f2.8,
25mm f1.4, Voightlander 42.5mm f.95,
1 Canon 5D Mark II DSLR body (w/ FF, Matte Box, & 5″ monitor)
Canon Lenses: 16-35 f 2.8, 24-105 f4., 70-200 f4.
Arri MMF-2 follow focus
Arri MMB mattebox
2 Chrosziel matte boxes
DJI Wireless Follow Focus (rental $100)
Cinegear 150 Meter Wireless Video Link
Monitors:
Panasonic LH1700W Production HD monitor
Video Devices PIZ-E5 5″ Monitor/Recorder w/ 2- 500GB
Video Devices PIZ-E7 7″ Monitor/Recorder w/ 2- 500GB
TV Logic 7″ multi format LCDÂ monitor
Small HD 5″ HDMI monitor
Camera Support:
O'Connor 1030 withO'Connor Hot Pod tripod
O'Connor 1030 with O'connor sticks
O'Connor 515 with O'connor sticks
O'Connor DV with O'connor sticks
Miller DV-20 w/ carbon fiber sticks
Intel-A-Jib 12' jib arm
VariZoom 30 lb Power Head
Hood Mount
Hostess Tray
Premier PD-1 dolly (Spider dolly clone) & tracks: 1- 4′ , 2- 8′
Cinevate Duzi4 32″ flywheel slider 100lb capacity
Slider 44″ 100lb capacity
Slider 30″ & 60″ with SYRP motion control
BeeWorks stabilizer with kinetic remote (5lb capacity)
Beholder DS-1 stabilizer (3.6lb capacity)
DJI Phantom-3 4K drone
Sound:
1 Denecke 2sb Time Code Slate
1 Sound-Devices 664 6-Chan Field Mixer
1 Sound-Devices 302 3-Chan Field Mixer
2 Sennheiser G2 SK100/ME2 Wireless
4 Lectrosonics UCR411A receivers, 4 MM400B transmitters
1 Lectrosonics LRB1 compact receiver
2 Countryman B6 lav mics
4 Voicetech lav mics
1 Schoeps CMIT5U short shotgun mic w/ zeppelin
1 Schoeps CMC6U/MK41 mic
2 Octava MK 012 w/ 3 cap kit mic
1 Electrovoice RE-10 dynamic mic
1 K-Tek carbon fiber 8.5′ boom
1 19″ Teleprompter with Laptop & Software
7 Motorola CP200 walkie talkies w/ headsets
Misc:
Magliner hand truck
Rosco fog machine
Bull Horn
Electric:
1 Honda EU 2000 Generator
1 1000W Inverter
1 100 Amp 5 Duplex Lunch-box
Lights LED's
1 2″x6″ LitePanel 5600K
1 6″12″ Dracast (95 CRI) 5600K
1 12″X12″ Dracast (95 CRI) 5600K
1 14″24″ Dracast (95 CRI) 5600K
2 12″ Kamerar Brightcast Flex (95 CRI) Bi-color
1 10″ Cineroid Flex Panel (92 CRI) Bi-color
2 Came TV Fresnel 30 & 60 Watt (96 CRI) 5600K
Lights HMI:
2 Joker Bug 400 pars
1 Joker Bug 800 pars
2 CMC 575 pars
1 LTM 1200W par
Lights Fluorescent:
4 Kino Flo 4x 4 lamp
2 DivaLite 2x 4 lamp
3 Kino 4′ single (bare tube setup)
Lights Tungsten:
3 100W Altman Inkie fresnel
1 150W LTM Pepper
4 150W Arri fresnel
5 300W Arri fresnel
5 650W Arri fresnel
1 1K Arri fresnel
1 2K Arri fresnel
4 Mole Tweenie 650W Fresnel
4 1K Mole Baby Solar Spot fresnel
2 2K Mole Baby Junior fresnel
2 650W Mole open face
2 2K Mighty Mole open face
2 Lowel Tota lights
6 ETC 4S Ellipsoidal (4-50°, 2-36°, 2-19°)
3 ETC 4S Ellipsoidal Jr Zoom 25-50°
Soft Boxes:
2 Chimera X-small boxes
1 Chimera medium box
1 Chimera small lantern
1 Photoflex medium lantern
1 16"x22" 500watt soft box kit
2 24"x30" 1000watt soft box kits
Stands:
16 40″ C-stand with gobo head
4 20″ C-stand with gobo head
3 Double riser baby
3 Triple riser baby
2 Double riser wheeled baby stands
2 Triple riser wheeled baby
3 Double riser combo
3 Triple riser combo
4 Hi Hi roller stand
1 Mombo Combo
5 mini collapsible baby
4 Lowell collapsible baby
Grip:
8 Cardellini's, 6 Mafers, 3 Magic Arms, 8 Wall Plates, Misc Clamps, 3 Polecats, Apple Boxes, 16- 15lb Shot Bags, 20- 20lb Sand Bags 2 Platypus, Speed Rail & Fittings
Ladders: 4, 6, 8 step
Flags:
18″x12″: 2 Solid, 2 Single, 2 Double, 2 Silk
24″x18″: 4 Solid, 2 Single, 2 Double, 2 Silk
36″x24″: 5 Solid, 2 Single, 2 Double, 1 Triple, 2 Silk
48″x48″: 4 Floppies,1 Silk
Frames:
2 6'x6'frame
2 8'x8′ frame
1 12'x12′ frame
1 20×20 frame
4 24″x24″ blade frame
2 24″x36″ blade frame
6 48″x48″ blade frame
Rags & Reflectors:
6x: 2 Solids, 2 Griffs, 1/4 Silk, A-Silk, Single, 2 Doubles, S-Lame
8'x8′: Solid, Grid Cloth, Super Bounce, China Silk, Art Silk
12'x12′: 2 Solids, Griff, Artificial SIlk, 1/4 Silk, SIngle, Double
20'x20′: Solid, Art Silk, 1/4 Silk
2 42″x42″ Matthews aluminum reflectors
2 40″x40″ Matthews expendable reflectors
Keying:
8×8 Chroma Key Bluescreen (foam material)
10×14 Chromakey Green-screen (foam material)